Seeking an experience to tick off your bucket list? We did! Doing a cave walk is something to give a go and its not as scary as you think.  To break your fears, the Stockyard Gully Caves is  a short and easy cave walk you can give a crack. We have done the StockYard Gully Caves twice now and done many more cave walks in Australia.
WHERE ARE THE STOCKYARD GULLY CAVES?
The caves are located 250km North of Perth, 24km South West of Eneabba and 14km east of Leeman in Western Australia. There are many Caves in Western Australia to explore and Stockyard Gully Caves is an easy one the family will love. The Stockyard Gully Caves is access to easy by either Indian Ocean Drive or The Brand Highway. However its very important to note, access to the cave  is only via Four Wheel Drives Only.  The 4WD trek is only about 5-10km in distance its  pretty short, but its rough!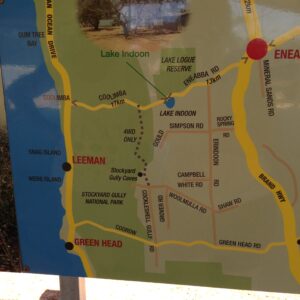 WHAT TO DO AT THE CAVES?
The Cave Walk is only 300metres in length and its an easy walk across the sandy floor. Its a short walk from the car park to the entrance of the cave. Please be mindful as the two times we have visited there is beehives at the entrance and exit to the cave.  Its a great spot to have a BBQ lunch and their is Bush Toilets and Tables/Chairs available. Remember if you plan to cook your lunch here, take all your rubbish with you! Illegal Rubbish Dumping is not acceptable behaviour.
KEY ITEMS TO BRING 
The number 1 item to bring is a reliable and quality Torch, you will certainly need it for the tunnel walk. On our first visit to the caves we made the rookie mistake of not taking a torch and trying to use our  Mobile Phone Light.   That was an epic fail!
Even though the cave floor is sandy, appropriate footwear is still a must as you don't know if you will come across any sharp rocks. It also doesn't hurt to have a first aid kit on hand if an injury occurs during the walk.
OTHER PLACES TO VISIT IN THE JURIEN BAY AREA
If your looking for things to do in Jurien Bay Area, heres a few recommendations from our experiences;
-Didn't bring lunch to Stockyard Gully Caves, take the drive into Jurien Bay for Fish and Chips. The shop is located in the centre of town and we are giving you the heads up this place is VERY popular!! We know why as the food is fresh and so damn good!
-Fancy an adrenaline rush, how about you give SkyDiving at go at Jurien Bay SkyDive! Stacey did and read about her not so good experience here.
-Looking for a free camp option, give Enebba 24HR Rest Area a go only a short drive from Stockyard Gully Caves.
Want to know more of things to do on Indian Ocean Drive, Western Australia  visit the Australias Coral Coast website here.
If you like it, Pin it & Share It! 🙂