We admit, exploring South Australia's Limestone Coast wasn't high on our radar. We had heard so many good things about this incredible coastline. In fact, people were comparing it to the Great Ocean Road in Victoria. So it must be pretty good right?
When we found a break in our schedule with our roving business, we took the opportunity to have a weekend getaway in Beachport.
We share with you our full review of Beachport, South Australia – Things to Do, Where to Stay, Where to Eat & Day Trip Drives from Beachport.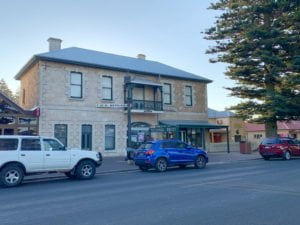 Things to Do in Beachport 
Beachport Visitors Centre
The go-to when visiting any new area. The visitor's centre is your ultimate source of information for things to do. Grab a map, self explore and ask the staff as they are most likely locals for their best recommendations.
Beachport Jetty
The second-longest jetty in South Australia and its a stunner! Take the 772meter walk out onto the waters of Rivoli Bay, we were incredibly lucky to have a calm evening and the walkout on the jetty was peaceful. Many keen anglers were trying the luck of fishing off the jetty.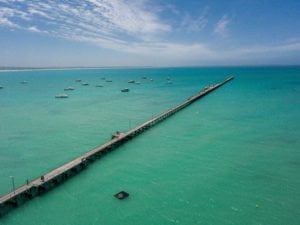 Customs House
Before Federation, this tiny office collected customs fees. Over the years, it has been a railway office, museum, and ANZ Bank. The building was renovated and restored to show a working office as it was in the late 19th Century.
Woolley Lake
A small saltwater lagoon and is a favourite haunt for small birds. Take the walking trail around the lake, this will take approximately 45minutes. A short climb to a lookout provides views of Lake George, the coast and Woakwine Range.
Pool of Siolam
A unique salt lake to Beachport with grassy banks and a small pier. Swimming is very easy, as the water is extremely buoyant. Cold Shower facilities, public toilets, and picnic area is available. An ideal spot for a family day out!
Lake George
Camping & White Sandy Beaches! Yes, please! Lake George is protected by dense paperbarks, camping is only suitable to Summer.
Centennial Park
Centrally located in Beachport, this landscaped garden surrounds a lagoon with a walking trail and other features. The area also provides play equipment, sheltered BBQ and picnic facilities, toilets, tennis courts, basketball half court and a small skateboarding facility. Fun for all!
Durant Lookout
A must visit to get your bearings around Beachport. The lookout provides spectacular views of the township of Beachport, Rivoli Bay, Beachport Conservation Park, and the Southern Ocean.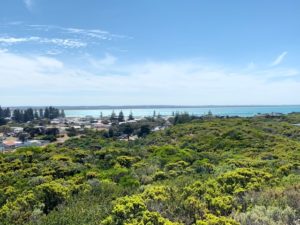 Sculptures
Beachport has 3 Stainless Steel Sculptures upon entry into the township. Stop here and take a few snaps and share them on social media to promote beautiful Beachport!
Woakwine Cutting
Located 12kms from Beachport Township, the viewing platform of Woakwine Cutting is incredible. It's said to be Australis's biggest one-man engineering feat. The cutting was excavated to drain the land behind woakwine range.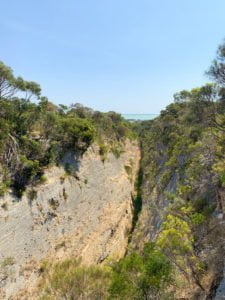 Penguin Island Conservation Park
Drive towards the lighthouse – you cant miss it, its in the skyline of Beachport. Take a short walk past the lighthouse which was built in 1878 and view Penguin Island in the distance. The lighthouse used to be on the Island reserve however it was moved to mainland in 1960. Penguin Island is characterised by 10 to 15 metro cliffs and is the breeding ground for silver gulls, penguins and crested terns. Occasionally you will see seals on the island.
Bowman Scenic Drive
View all the spectacular scenery that Beachport has to offer by taking a drive along the Bowman Scenic Drive. Various points to stop and see the landscape.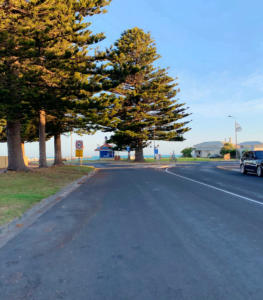 Memorial Lookout and Surf Beach
The memorial lookout is located at the Surf Beach and is dedicated to the memory of two serviceman killed dismantling a mine during World War Two. The lookout provides panoramic views across Rivoli Bay and Lake George. The beach is excellent for surfing and has plenty of parking with toilets and cold shower facilities provided.
Beachport Cinema
Beachport has a Cinema which screens some of the top blockbuster movies and new releases. A great spot to relax for the afternoon or evening. Treat yourself to Pop Corn & Ice Cream! To view the movie times, they are posted on Facebook Regularly.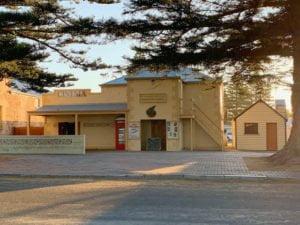 Accommodation Options
We chose to stay at Beachport Caravan Park and we loved our stay here. We also couldn't believe the price we paid for a caravan park that is across the road from the beach and in peak season! We paid $33 night for a powered site. This simply isn't heard of in most caravan parks during peak season. We only stayed for 2 nights and we had no minimums.
There is another caravan park in town and that is the Southern Ocean Tourist Park. If your looking for motel accommodation there is the Beachport Motor Inn, Mompas of Beachport & Beachport Harbourmasters. To search accommodation deals for Beachport and surrounds, SEARCH HERE.
Where to Eat in Beachport
There is something for everyone to tempt your tastebuds in Beachport.  We sampled Fish & Chips from the Waterfront Cafe and had a lovely evening meal at the Beachport Hotel.
Baked at Beachport does a great coffee or a hot chocolate, and for the sweet tooth, the Lions Club do Hot Donuts. You can find them on the foreshore with their van and quite often there is a lineup! That's always a good sign they are awesome!
Bompas Cafe & Rivoli Bay Deli are also other places to grab a bite to eat in Beachport. Quite limited options but we think that is perfect!
Day Trip Adventures from Beachport
During our extended weekend, we took a trip north of Beachport to the popular tourist towns of Robe, Cape Jaffa, and Kingston South East.
We chose to have lunch in Robe at one of the local hotels and then further our journey on to Kingston SE to see the Iconic Larry the Lobster  on our return home we stopped in at Cape Jaffa.
Some of Australia's best seafood comes from the coastal towns of Kingston and Robe and if you fancy wine, there is ample cellar door winery's in the area where you can try unique wines paired with a delicious range of local produce.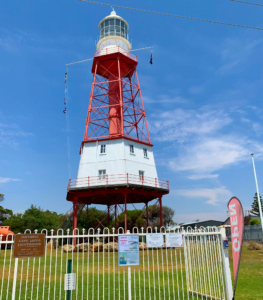 If you Like It, Pin It & Share It