We don't deny it. We love the painted silos in Australia. Since the introduction of silo art back in 2015, it has had huge benefits for regional towns and communities across Australia, with the influx of tourists coming to the townships.
We are lucky to live so close to where the first Silo Art Trail began. That being in the Yarriambiack Shire of Victoria with the silos that include Brim, Sheep Hills, Rupanyup, Lascelles, Rosebery and Patchewollock. Take a read of our post about the Original Silo Art Trail in Victoria – Click HERE
After exploring the Silo Art of Victoria and falling in love with it, we were itching to visit the Silo Art Trail in North East Victoria. We had seen all the images on the internet, but it isn't until you see it in real life its a sense of achievement and satisfaction that you're seeing it for real. 
If you are travelling Australia and want to see all the Silo Art, a great reference point is the Australia Silo Art Trail website which has all the locations you need to discover.  It also includes painted water tanks and towers. VIEW THEIR SITE HERE. 
Where to Start?
When discovering the Silo Art Trail of North East Victoria, we suggest putting Benalla as your starting point. Benalla is 2.5 hours from Melbourne and over 1 hour from Albury. The town's buildings provide an ever-changing canvas for artists around the country and globe. A great place to discover some amazing talent and get you ready for what you are going to discover on your road trip. 
As always we suggest, head to the Visitors Centre and grab a map with all the locations of the silos. Whilst you're there, we also recommended getting your hands on the Offical Visitors Guide. This will be your key if you would like to discover all the street art in the Benalla township. 
If you cant get access to a Map, use this LINK as it has a great map that we used and is available for download. We have posted it below.   
Gooroambat Silo
Painted by Jimmy DVate. Goorambat Silo includes the Millibai Barking Owl & Clem, Sam & Banjo the Clydesdale Horses. A dedicated view platform is available at 2 different view points.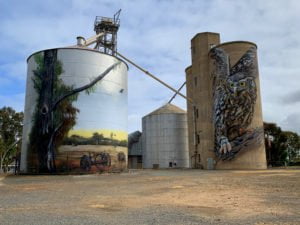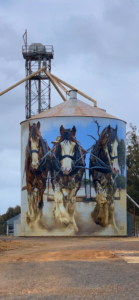 "Sophia" of Goorambat
Painted by Adnate. Sophia was created to depict the female aspect of the Holy Spirit. Sophia by nature is wise, nurturing, comforting, inspirational and ever-present. Find her in the Uniting Church of Goorambat. No visit to Goorambat  is complete without visiting Sophia. This beautiful piece of artwork is not be missed and is well with the drive to see in all its glory. Donation box is located inside the church if you wish to contribute . This church is still a working church with regular services on a Sunday.
Devenish Silo
Painted by Cam Scale. This artwork is a visual tribute to the men and women of the Devenish community who enlisted in the military service. The artwork is of a first world war nurse and modern-day combat medic. The silo had further paintings completed in 2019 with the recognition of the lighthouse men.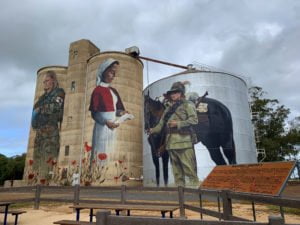 St James Silo
Painted by Tim Bowtell. The mural is dedicated to Sir George Coles, a St James local who founded Coles supermarkets. This by far is the biggest silos with artwork painted. The intricate detail is phenomenal.
Tungamah Silo
Painted by Sobrane Simcock of Western Australia. Tungamah was the first silo to be painted to start the North East Silo Art Trail and it was painted by the first Australian female solo artist. It includes dancing brolgas, an Australian kookaburra, pink and grey galah, a hummingbird, an owl hiding in the leaves, a cockatoo, wrens and and ibis.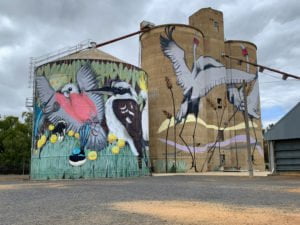 Winton Wetlands Water Tank
Painted by Guido Van Helten. The Winton Wetlands water tank recognizes the contribution our CFA volunteers do for our communities. Colin Hooke, from Chesney Vale Fire Brigade, Robert Green of Taminic Fire Brigade and Danielle Spokes of Winton Fire Brigadade are featured. This artwork has received national and international acclaim for the striking express is casts again the backdrop of lifeless river red gums. The tank can be found in the middle of the wetlands and is part of a separate art trail within the area. Look out for other art projects nearby, such as Martins Barge  and the Fish Trees.
Final Thoughts
Discovering this silo art trail will only take a few hours if your time is limited. Like all the other painted silos in Australia, they are free attractions, however donations are always welcomed and accepted. Along this trail, there are donation boxes at each stop. If you love what you see, please donate to contribute to the upkeep of it for years to come. Or spend some money locally, get lunch at a cafe or the local pub, browse the shops and grab a bargain.
We love the Silo Art in Australia. Doesn't matter where it is, we will go out of our way to visit it! We love it!
IF YOU LIKE IT, PIN IT & SHARE IT