When you read "Pegless Clothesline" the immediate reaction of people is what is this and how does it work.
Being a roving stockist of Slide N Dry Pegless Clotheslines, these are the common questions we face when we do markets and major events. It is the ultimate travel essential item, for all your Caravanning, Camping, Cruising, Hiking, Fishing, Backpacking, Motel, and Home needs.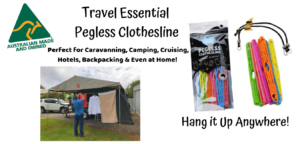 It's the most compact travel clothesline you will find. Why would you want to lug around a big bulky clothesline when you can have a travel washing line that's simple, easy to use and compact. The Slide N Dry-washing line has 2 bungee cords for rigging up along with 12 slides to connect to give you a total of 24 hanging points. The slides are all interlocking so you make the line the size that you need.
Don't think for a second that it won't hold your heavy wet towels, sheets, and jumpers because it will. This product has been road-tested by us and many traveling families and its a winner!
Lastly, this product is Australian Made! Manufactured in Melbourne and Packaged in Numurkah, Victoria. Its also UV protected so it will withstand the harsh sun.
If you like it, Pin It & Share It!