Extreme hot weather is quickly becoming the new norm here in Australia and there is nothing worse than being uncomfortable in the heat. When you want to go camping or in our case go on our extended road trip in a camper trailer. How can you  expect to have a comfortable holiday in 40-degree heat?
Whilst there are a number of ways you can stay cool when camping in the summer heat, you can read our top tips here. Whether it is indoors or outdoors keeping cool and comfortable is the key. For us doing a road trip of Australia in a camper trailer we knew we needed something to keep us cool and happy! Let's face it, nobody likes "Grumpy Stumpy"
When looking at ways to deal with the heat on the road,  we did look at many options and with a variety of portable air conditioners on the market, we came across the Lion Polar Air Cooler. 
The Details You Should Know
The Lion Polar Air is a Portable Evaporative Air Cooler. It has a Multi Colour Night Light and 3 Fan Speed Setting. The provided cord for usage is a USB Cable Cord. You will need to provide your own adapter in order for the unit to work. 
When the Water Tank is full and the low fan speed setting is selected, the unit should run for 8 hours. If the water runs out, it will still operate as a fan. The Polar Air Cooler works best when sitting directly infront of it. There are 7 Colours available to select for nighttime usage them being, Blue, Red, White, Teal, Purple, Yellow and Green. 
What's the Cost
Surprising this unit is very affordable. We picked up ours up from a Lyal Eales Store on sale for $49. We were lucky enough to grab the last one in stock and we were advised that they were selling very quickly. Once we started using the unit, we can understand why! 
The Pros
-When everyone is looking for a bargain, sometimes you have to be careful that it can be too good to be true. However, the Polar Air is affordable at $49 and it works. 
-Loving the Colours that you can select from. Everyone needs a bit of colour in their life! 
-The fan settings are selective High, Medium & Low. When we used it we had it on high and it had gives a nice reach.
-Its lightweight and a small unit so it doesn't take up too much space.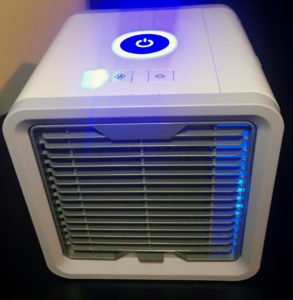 The Cons
-Packaging tells us its Ice Cold. That is a misconception. You can put small ice blocks or iced water in it and that will help make the breeze cool. But if you put warm water in it, it's going to blow warm air. 
-Its primarily used for personal use only. It's not going to cool a camper trailer, caravan or room. Don't think it will do wonders in those areas coz it mostly like won't. 
-Doesn't come with a 240volt adapter to plugin. You have to provide your own. 
Our
 

Experience & Thoughts on the Lion Polar Air Cooler

 

The key to remember is that it's not a powerful air conditioner that will cool a room. It's an air cooler that you have next to you or in front of you to help keep YOU cool. Putting ice water or very small ice blocks in with the water will help have air blow cooler on you.

The Air Cooler offers great value for money  and it is great investment for the cost of $49. We really do like the fact that it has a nightlight and a variety of colours to chose from. 

For us it worked well in the Hot Victorian dry heat, however if you were to use it in Humidity, it may not work very well.

We have not decided if we will take it on our trip this year. We do have a TransCool Air Cooler that we love, but space is limited for us so we do have decisions to make.




If you like it, Pin It & Share It!