As we said Goodbye to an memorable 2016, we started planning for 2017 and what adventures loveyourtravels will go on next. Euston in NSW, Australia is a quiet little town nestled on the Murray River. We had visited Euston before on our journeys back home from Mildura, however we had never experienced a stay at the Euston Riverfront Caravan Park.
To bring in the New Year, a stay at the Euston Riverfront Caravan Park was organised. Our experience here all started when we booked our stay which might i add was on Boxing Day! Being peak season we really didn't expect to get any availability however we were pleasantly surprised they could accommodate a 2 night stay for us.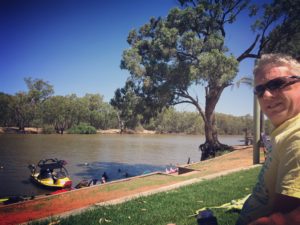 The Euston Riverfont Caravan Park is exactly as the name says! Its right on the river! Its a small clean park that is very affordable! The park is within easy walking distance to the Euston Club and  the Euston Hotel which is very convenient if you don't want to cook!
Around the park there are Toilets,  Barbecues which located in the Camp Kitchen and an amazing lawn front  right on the river. It Makes an  ideal spot to sit back and watch the boats & skiers go past.   Just outside of the park is the Laundry which is located next to the Cafe which is open from early morning to late evenings. The park offers a range of accommodation options, Standard Cabins, Ensuite Cabins, Unpowered and Powered sites at affordable prices. We were shocked to find that during peak season and on New Years weekend, we could still get an Ensuite Cabin right on the river for $100 a night! That's pretty good!!
Euston Riverfront Caravan Park is an ideal spot to come if you want to get a break from the hustle and bustle of city life and relax in a small park that's not overrun with holiday makers! We give thumbs up to the Owners & Managers of the Park, we cant wait to come back in the near future! For full details on there accommodation  fees, check out their website here. 
Whilst we stayed in Euston, we took a day trip to Yanga National Park. Have a read of our review here. 

HERE IS OUR YOUTUBE VIDEO OF OUR STAY AT EUSTON CARAVAN PARK